Heritage
Rich History Since 1875
Emil Bruno Meyrowitz, born on the 20th October 1852 in Greifenhagen, Prussia, was the founder of the eponymous oculist. E.B. Meyrowitz henceforth began its rich history in 1875. Stores were opened in London, Paris and New York over the course of the next twenty years retailing not only spectacles but all manner of optical goods, devices and instruments. Over one hundred and forty five years later the name of Meyrowitz lives on in its own unique spirit still evoking memories of a brand playing a key role in the early days of aviation, motor racing and mountaineering.
Racing
Pedigree
From humble beginnings in the 1870's E.B. Meyrowitz had soon built a reputation for itself as not only a pioneer in all things optical and ophthalmic but had also extended its prowess to the motor sports arena. Many land speed records were broken between the 1920's and 1950's behind the brand's infamous Luxor Goggles including those set by Sir Malcolm Campbell, Sir Henry Seagrave and John Cobb. The first Le Mans 24 Hours in 1923 was won by André Lagache using the very same goggles. Each subsequent race until 1940 crowned winners donning such eye protection including Woolf Barnato, Luigi Chinetti, Glen Kidston and Jean-Pierre Wimille racing across Bentley, Alfa Romeo and Bugatti. Countless more feats were achieved behind the brand's racing apparel with numerous wins at the Monaco Grand Prix, The Indianapolis 500 and Mille Miglia.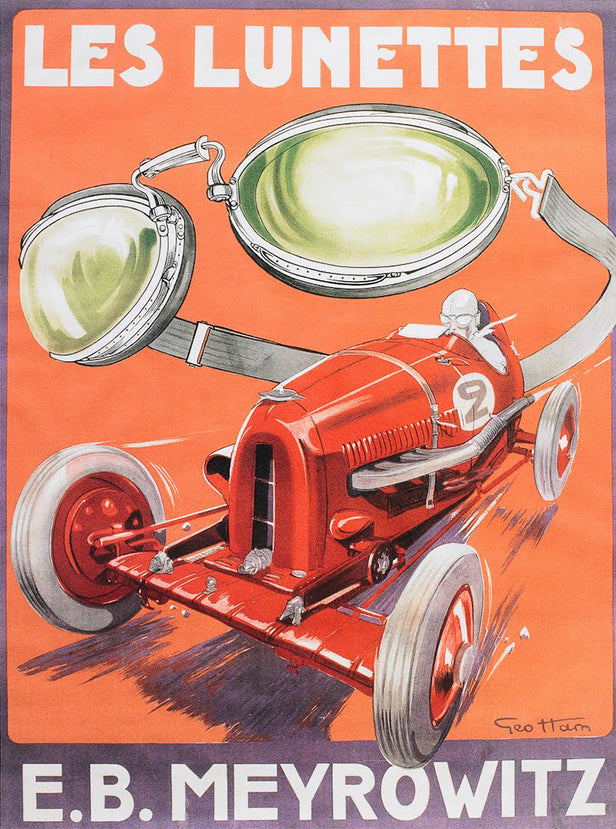 Flight of
Fancy
World firsts were not however confined only to the track. E.B. Meyrowitz goggles were the choice of many a prominent aviator and aviatrix over the years. Charles Lindbergh completed his pioneering transatlantic flight behind his Luxor visors as did Amelia Earhart on her maiden voyage. These same goggles were also used in the first aerial expedition over Mount Everest attempted by Sir Douglas Douglas-Hamilton and David McIntyre. During WW2, such visual aids were also the choice of many prominent fighter pilots across the globe.
An
Enduring Legacy
A Long Run Affair
Central to the ethos at E.B. Meyrowitz is the perennial sense of style the atelier strives to encompass within every one of its designs.
Bespoke